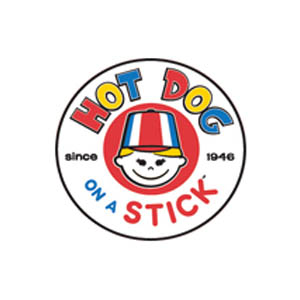 Hot Dog on a Stick
Hot Dog on a Stick has become an American icon, serving delicious food for more than sixty years across the country. Our sizzling Hot Dogs on a Stick and Cheese on a Stick are both dipped in cornmeal batter and cooked to golden perfection. Our famous lemonade, made fresh every two hours, is offered in original, cherry, lime and sugar-free.
Thirsty Thursday
Valid from May 21, 2018 to May 31, 2018
Every Thursday for May is Thirsty Thursday, $1 OFF any Stick item with lemonade purchase.
---
May Deals - $1 Stick Items, every Tuesday
Valid from May 21, 2018 to May 28, 2018
Every Tuesday for the rest of the month of May is $1 stick item with a purchase of a lemonade.
---
15% Off Party Packs
Valid from May 25, 2018 to May 28, 2018
Are you ready for a party? 15% off Party Packs (25 Stick Items, One Gallon Lemonade, or Three Gallon Lemonade)
---